Ana Parodi
Vice President of Sales & Business Development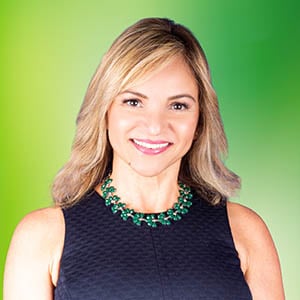 Ana is energetic, imaginative, and always looks for those win-win solutions. Ana fell in love with cruising after her first experience at 15 years old. Little did she know that she would eventually make a career in the cruise industry.
Ana has been an integral part of the Sales & Marketing teams of thriving and innovative cruise lines such as Royal Caribbean, Norwegian Cruise Lines, Oceania Cruises and Viking. With over 25 years of experience, a positive attitude, and an uncanny ability to foster relationships, Ana Parodi is an amazing addition to the Cruise Planners Sales & Marketing team.
Hometown: Miami, Fl
Hobbies: Outdoor activities and the beach.
Favorite Vacation Spot: Tahiti
Bucket List: There are so many fabulous places to visit or re-visit and experience something new, but I definitely want to visit Machu Picchu.
My Cruisitude® Definition: It's a state of "feeling" the attitude of being able to deliver an experience with confidence
Fun Facts: I am a total dog lover and I have 3 adopted Dachshunds - Ginger Marie, Weezy Louise, and Manolo Enrique. Yes, they all have middle names and they rule the house. My grandbabies cannot call me Grandmother or Abuela, I only answer to Nanni